NBA announces tentative deal to start season December 25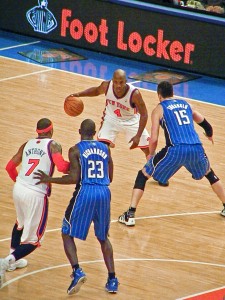 By Tim Molloy
Sun Nov 27, 2011 12:55pm EST
NEW YORK (TheWrap.com) – The NBA and its players union announced a tentative agreement over the weekend to end their five-month lockout and start the season on Christmas Day.
A majority of the 29 owners and 450 players still need to vote for the agreement for it to take effect. At a news conference announcing the potential pact early on Saturday, NBA commissioner David Stern said the agreement was "subject to a variety of approvals and very complex machinations, but we are optimistic that will all come to pass."
Stern, National Basketball Players Association executive director Billy Hunter and president Derek Fisher said they would leave it to their lawyers to work out the terms of the deal.
Stern said he expected the season to begin with a Christmas Day triple-header and for the abbreviated season to be 66 games long.
The announcement is good news for TV networks that have plans in place to make it through fall without a basketball season, but which would have been in a tighter situation from Christmas on. ABC usually begins airing games on Christmas Day. And while ESPN planned to air college football and basketball in place of the NBA games, that will work only until football ends in January, and when March Madness begins in basketball.
Losing an entire season could have been expensive for the networks: Turner and ESPN/ABC are together paying $930 million per season through the end of their contracts in 2016, and several projections have found that the networks could collectively lose out on about $1.25 billion in advertising revenue.