THE 2015 LEAGUES
THIS IS THE REGISTRATION PAGE. SCROLL DOWN FOR REGISTRATION FORM.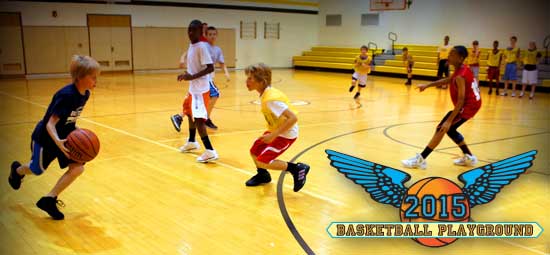 2015 BASKETBALL PLAYGROUND LEAGUES 
Where: Northview Middle School, 8401 Westfield Blvd., Indpls., IN, 46240 (Enter door 18 south)
SUMMER LEAGUE: MAY 10th –  JUNE 28th:
6th, 7th & 8th Graders
8 WEEKS on SUNDAYS 2-4pm
Last 6 weeks will be league play.
$75/student
Payment can be pre-paid below by clicking the paypal buttons, or payments can be made in person on the first Sunday of each League.
You can pre-pay using PayPal right here, or just pay at the time of class.
You can contact Coach Roberts directly @ #(317)331-0049
Basketballplayground.com's 2015 Leagues focus on the fundamental skills of the game. Shooting, ball handling, driving, and scoring mentality are all components of our energizing group training sessions. Coach Roberts and his trainers take you through a strategic routine focused on footwork, body positioning, critical thinking when in game situations, ball handing, shooting fundamentals, scoring mentality, and competitive acumen with direction on how to channel positive energy.
Schedule
Weeks 1-2:
15 minutes stretching and exercising
Instruction for 30 minutes
Lay up drills
Focus on fundamentals and 3-on-3 games
Weeks 3-6:
5-on-5
Week 7-8:
TOURNAMENT TIME!
Scroll down to register by filling out the form below.
---
In order to Participate in the 2015 Leagues, the following registration form should be completed prior to participation. Information must be completed by Parent or Guardian.
Registration Terms
I, parent or guardian of the above named player, hereby give approval for participation in any and all basketball playground activities. I hereby grant permission to managing personnel or other league representative to authorize and obtain medical care from any licensed physician, hospital or medical clinic should the player become ill or injured while participating in league activities away from home, or when neither parent or legal guardian is available to grant authorization for emergency treatment. I assume all risks and hazards incidental to such participation, including transportation to and from activities, and do hereby waive, release, absolve, indemnify and agree to hold harmless the local league organization, sponsors, supervisors, participants and persons transporting the player to and from the activities, for any claims arising out of injury to the player. I/we parent, guardian or participate of the above named candidate, do hereby give my/our approval to his/her participation in all activities.
Media consent:
I consent to the basketballplayground.com program to use my child's image in print and/or video for the purpose of documenting my participation in the program. I understand that my name may or may not be used in print or broadcast media for the purpose of promoting the basketballplayground.com program.